Tips and FAQs on your visit to the Harry Potter™ Studio Tour
Know Before You Go
Here are a couple of handy tips to make the most out of your Harry Potter™ Studio tour:
Go on a weekday: The Harry Potter/Warner Bros. Studio Tour books several months in advance so the best way to maximize your chances of getting tickets is to go on a weekday. They typically have better availability, so be sure to look at different days of the week to get a slot of your preference.
Choose your boarding time: If you are taking the bus, make sure you select your boarding time in advance for when you would like to board the bus from London. Entry into the studio will be approximately two hours later.
Be prepared to wait: Unless you purchase skip-the-line tour tickets, expect to wait at least 15-30 minutes before entering the studio. Even waiting can be fun though, as the Cupboard Under the Stairs is right next to the waiting line.
Take your time: The best part of going for a Harry Potter Studio tour is that you can stay as long as you like after the tour. Explore the vast expanses at your own pace and walk through the Great Hall, Professor Dumbledore's Office or any of your favorite attractions. You can expect to finish the entire tour in just under 3 hours. However, if you are a diehard fan, be sure to stick around for 4.5 hours at least to experience all the wonders of the Potterverse.
Grab a mug of Butterbeer™: You can buy yourself a mug of Butterbeer at the studio's Backlot Cafe. Please note that Butterbeer may contain nuts and other ingredients that may cause allergies. The tour operator is not responsible for adverse side effects.
Don't hesitate to dress up: Many die-hard fanss cosplay in their finest Harry Potter outfits. So go ahead and visit the tour dressed as your favorite character from the series.
#InstaReady: Uploading pictures from your visit on Instagram and Twitter? Use the hashtag #WBTourLondon and your photos just might be featured on the official studio page!
Access for the disabled: Although a majority of the studio tour is wheelchair-friendly, certain sections like the cobbled streets of Diagon Alley™, the Hogwarts Bridge or the slate floor of the Great Hall would be difficult to access by those who have a disability.
Where to eat: The Warner Bros. Studio offers several dining options. Choose from the Backlot Cafe, which serves hot and cold western food, including the famed Butterbeer. You can also head to the Studio Cafe or the Starbucks on the lot.
Entry for kids: Children aged 4 years and under can enter the Harry Potter Studios for free.
Harry Potter™ Studio Tour Highlights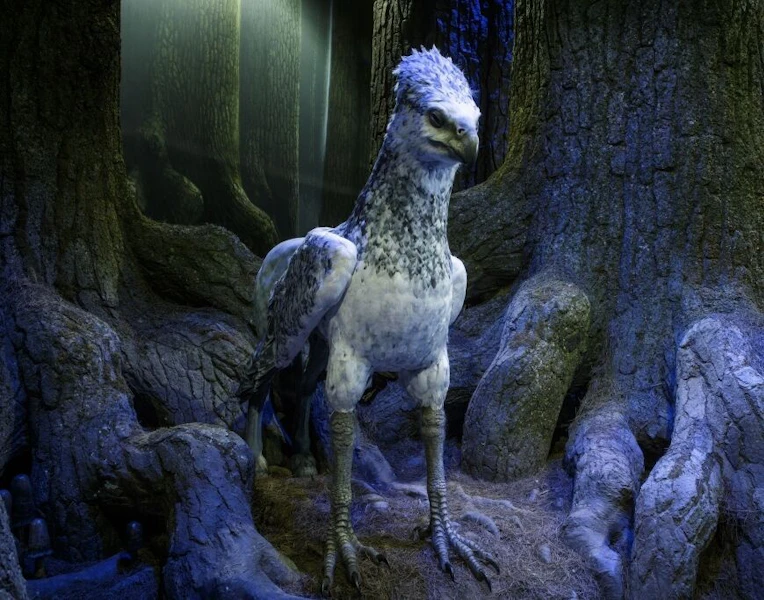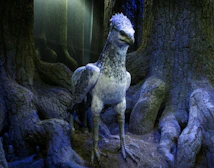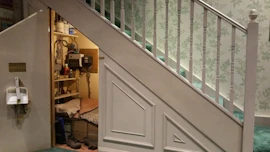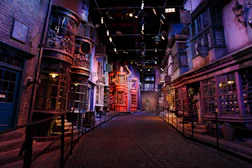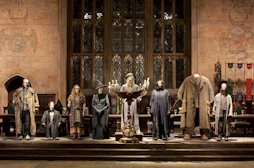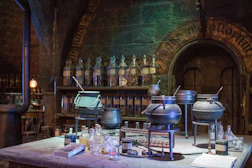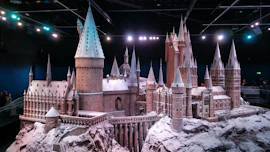 Harry Potter Studio Tour FAQs

Q. How long does it take to complete a Harry Potter Studio tour?
A. The recommended time to complete the entire tour is 3 hours. However, if you are a hardcore fan, you might want to stick around for at least 4.5 - 6 hours for a more in-depth look at the Harry Potter universe.

Q. Does my Harry Potter Studio tour include a tour guide?
A. Depending on the tickets you purchase and the tour package you choose, you can get access to fully guided tours with a professional studio tour guide or tours where only certain sections are guided. 

Q. Can I purchase tickets at the Harry Potter Studios?
A. No, owing to the limited number of visitors at the studio at any given time, pre-booking your tickets is mandatory.

Q. Are any rides or attractions available at the Harry Potter Studios?
A. A Harry Potter Studio tour does not include any rides. However, you will get to experience a behind-the-scenes look at the costumes, props, special effects, sets and much more to make every true fans's dream come true.

Q. What language is a Harry Potter Studio tour in?
A. The entire Harry Potter Studio tour is in English. 

Q. Is access for the disabled available on a Harry Potter Studio tour?
A. Although most areas of the studio tour offer easy wheelchair access, certain sections, including the cobbled streets of Diagon Alley, the Hogwarts Bridge and the slate flooring of the Great Hall, are more difficult to navigate. For visitors who are deaf or hard of hearing, British Sign Language tours are also provided at no extra cost. These tours are available at any time and must be booked at least 14 days in advance. Registered guide dogs, hearing dogs and medical alert dogs are also welcome on the studio tour. Please ensure that you carry formal identification for your pet with you at the entrance.

Q. What should I wear on a Harry Potter Studio tour?
A. Many fans choose to dress up as their favorite characters from the series. Don't be afraid to get creative and wear your fandom on your sleeve. However, do keep the weather in mind while choosing what to wear.

Q. Is outside food and drinks allowed on the premises of the Harry Potter Studios?
A. You are welcome to bring your own food and consume it in the Backlot area or the picnic area. You can also choose to eat at the Studio Cafe, Starbucks in the lobby, or the Backlot Cafe located halfway through the studio tour.

Q. Is there an age restriction to attend a Harry Potter Studio tour?
A. No, a Harry Potter Studio tour is open to all ages. However, all children under 16 must be accompanied by an adult. 

Q. Is smoking allowed at the Harry Potter Studios?
A. Although smoking is strictly prohibited in the indoor areas, there are several designated smoking areas outside the main entrance and at the Backlot.

Q. Is Wi-Fi available at the Harry Potter Studios?
A. Yes, free Wi-Fi is available for all persons who purchase a Harry Potter Studio tour.

Q. Are childcare facilities available on the studio tour?
A. Yes, baby changing facilities are available in every washroom block. There is also a private nursing area located close to the Backlot Cafe.
Harry Potter™ Tours London